[ad_1]
Good morning, and welcome to the Indy Gaming newsletter, a weekly look at gaming matters nationally and internationally and how the events tie back to Nevada.
If a colleague or associate emailed this newsletter to you, please click here to sign up and receive your own copy of Indy Gaming in your inbox. – Howard Stutz
---
Gaming and Leisure Properties (GLPI) is close to becoming the first casino industry real estate investment trust to be a landlord for a Major League Baseball stadium — but it will be at least five years before company officials are invited to throw out one of the first pitches.
GLPI, which owns the real estate associated with nearly 60 gaming properties in 18 states, isn't in a rush.
JMP Securities gaming analyst Mitch Germain said last week's agreement by the Nevada Legislature and Gov. Joe Lombardo to provide up to $380 million in public financing toward a $1.5 billion, 30,000-seat retractable roof ballpark on a portion of 35 acres owned by GLPI, gives the REIT "a significant future development pipeline while positioning the company to enhance its presence on the world-renowned Las Vegas Strip."
There are still many more bases to cross, however, before the Oakland A's can relocate the baseball franchise from the Bay Area to Las Vegas in time for the 2028 season.
The property will still house the Rat Pack-era Tropicana for at least two more years before the hotel-casino is demolished to allow room for the ballpark to be built on a 9-acre parcel. Bally's Corp., which operates the Tropicana, is expected to build a new hotel-casino near the stadium.
Rhode Island-based Bally's has a 50-year lease with GLPI for the 35 acres, paying $10.5 million in annual rent. That figure is expected to increase once the stadium and a new hotel-casino complex are completed.
In the May 15 announcement that the A's had agreed to locate the stadium at the Tropicana site (pivoting away from the original 49-acre site on the west side of Interstate 15 on land owned by Red Rock Resorts), GLPI said it would provide up to $175 million toward "certain shared improvements within the future development," but would offset that with an associated increase in annual rent.
Germain said Bally's had already been planning renovations for the 1,500-room hotel-casino since it acquired the resort in 2022.
"While the re-development of the Tropicana was already under consideration, this enables Bally's to consider a brand-new hotel and casino adjacent to the stadium," Germain told investors in a research note. "While GLPI does not have a right of first refusal to provide any financing, its ground lease ownership and strong Bally's relationship likely positions the company to participate in future funding needs at the site."
The legislation paves the way for the A's to secure up to $180 million in transferable tax credits from the state (which the team could sell to other businesses for cash), an estimated $120 million in Clark County-issued bonds and a $25 million credit from the county for infrastructure needs around the stadium. 
The stadium will sit in a "sports and entertainment improvement district" created by county commissioners. Tax revenues generated within that district will be pooled together to pay off the public funding for the stadium. Any taxes generated from the resort Bally's builds to replace the Tropicana will not be included in the stadium district.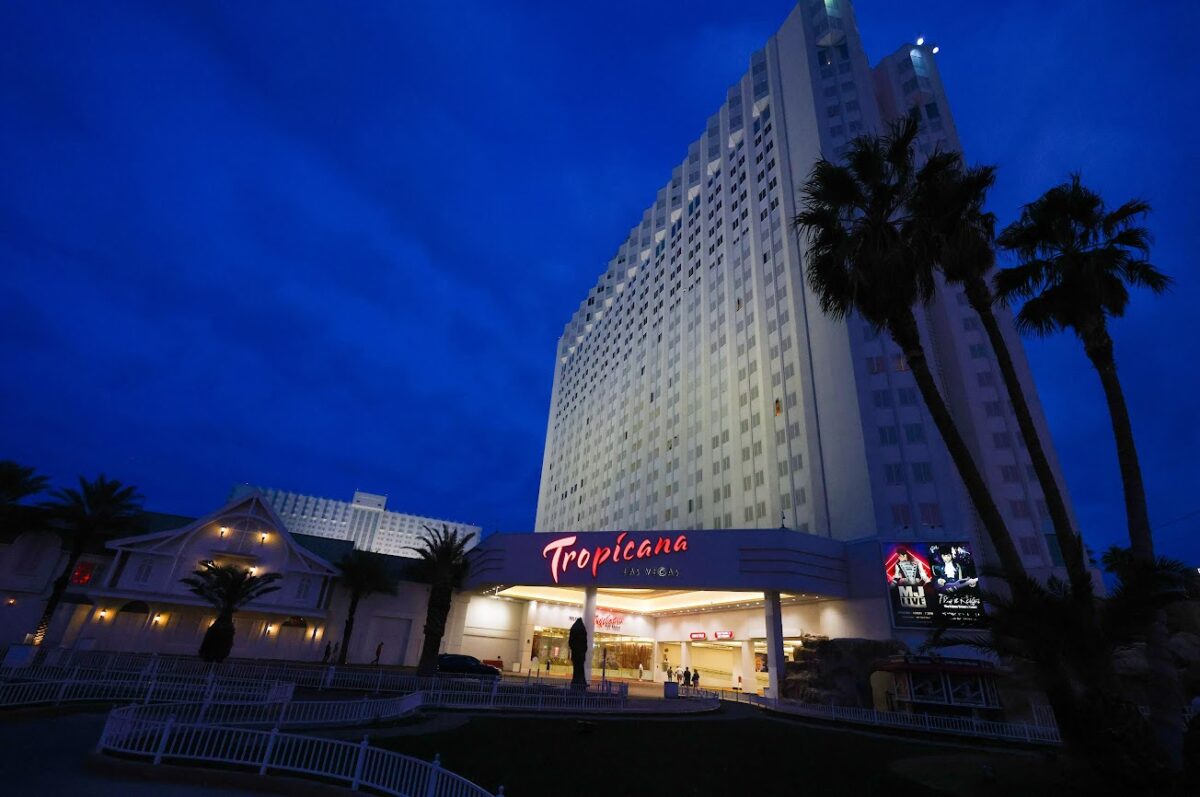 On Friday, Bally's Chairman Soo Kim told KTNV it might be two years before Bally's makes a decision on redeveloping the Strip resort. The company's current focus is on an under-construction $1.7 billion hotel-casino in downtown Chicago.
"We haven't made those plans yet," Kim said. "Now that we've gotten through the political process, now that that uncertainty has passed, now the real work begins. I think there's time."
Meanwhile, the A's need to file a relocation application to Major League Baseball owners. It's also unclear how A's owner John Fisher will privately finance the more than $1.1 billion needed in addition to the public money to build the stadium.
Before construction begins, the A's also will need to negotiate with the Las Vegas Stadium Authority to establish a development agreement, lease agreement and non-relocation agreement, as well as a community benefits agreement for certain investments in the Las Vegas community. The team and any developer partner will also be required to pay for the first $100 million of development costs on the ballpark before public funding is released.
The final designs for the ballpark will also need to be evaluated by the Federal Aviation Administration because the stadium site is located roughly 2 miles from the entrance to Harry Reid International Airport and near the facility's north-south runways.
Even with work on the stadium at least two years away, Germain said investors looking at GLPI should view the project positively.
"This deal represents a great example of the company's ability to operate nimbly while executing creative transactions catered to meet its tenants' needs," he wrote.
---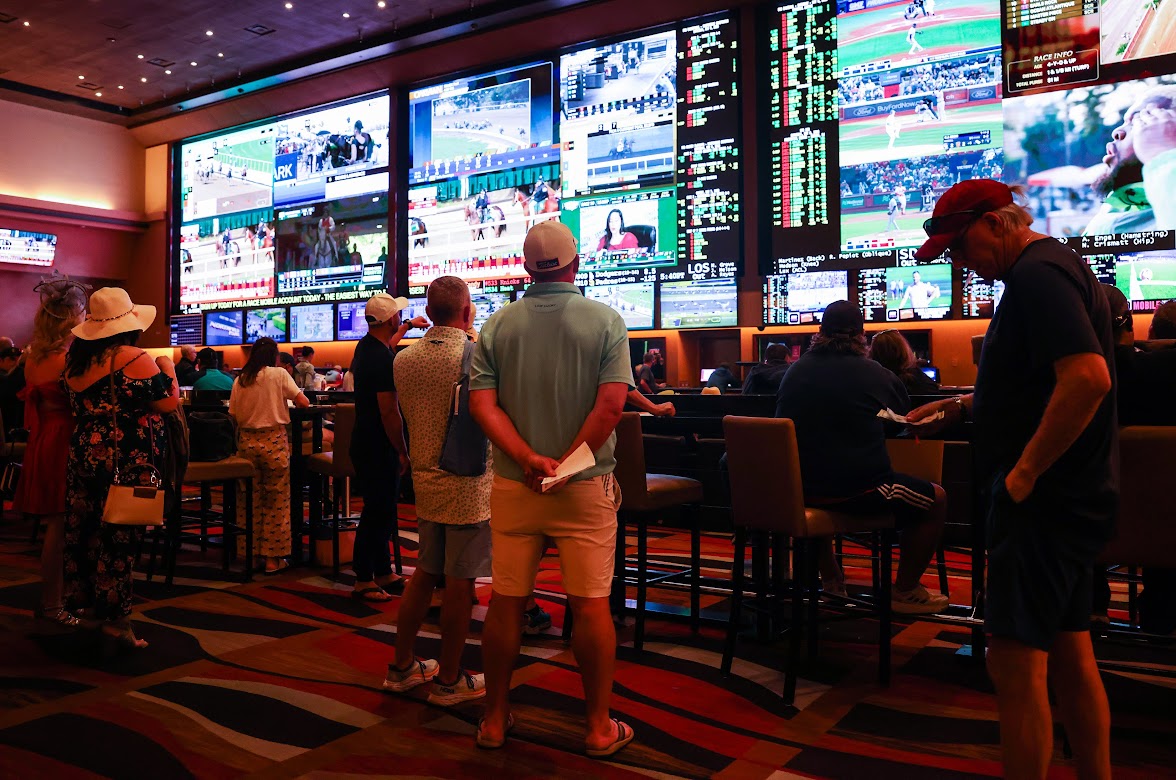 Titus wants sports leagues and NCAA to explain their wagering controls
Rep. Dina Titus (D-NV) has spent nearly a decade advocating for Congress to repeal the less than 1 percent federal excise tax on all sports wagers. Now, she wants professional sports leagues and the NCAA to clarify their sports betting policies.
Both efforts, she said, would help encourage the growth of legal sports betting, which has expanded in the past five years in Nevada and nationwide. There are now 33 states and Washington, D.C., with legal, regulated sports betting.
Titus sent letters last week to the leadership of 13 professional sports organizations, including the NFL, NBA and WNBA, NHL and Major League Baseball, as well as groups representing tennis, golf, motorsports, soccer and combat sports and the NCAA.
In the letters, Titus asked specific questions about the leagues' intended actions to preserve the integrity of their sports and maintain full transparency surrounding their betting policies.
"While sports betting offers a fun way for fans to enjoy their favorite teams, it also brings risk that could undermine the integrity of the games," Titus wrote in a letter to NFL Commissioner Roger Goodell.
"While I appreciate all the work you are doing with sportsbooks, state regulators, and integrity partners, more needs to be done to ensure that sports remain free from outside influence," Titus wrote. "This includes educating the public about what you are doing to protect the integrity of the game and maintaining full transparency surrounding your policies and procedures."
Titus reached out as co-chair of the Congressional Gaming Caucus and on behalf of her House district, which includes the Las Vegas Strip. She said the effort comes amid recent reporting showing "red flags" for sports betting on college sports, while some schools are sending out mixed messages on sports betting. The NFL is also investigating active players for possible violations of the league's gambling policy.
"When players get suspended and coaches get fired, that means the system is working," Titus wrote in her letter to the NFL. "The goal, however, should be to stop these bets before they are placed. Increased education of players and coaches about league policies regarding sports betting would assure fans that games they watch, and often bet on, are fair."
The American Gaming Association, the casino industry's Washington, D.C.-based trade organization, said the growth of the legal sports betting market brings increased visibility into betting activity, as evidenced by recent disciplinary actions.
"With the help of geolocation technology, integrity monitoring and compliance programs, we can track patterns, see abnormalities of betting behavior, and identify when and where it's taking place in order for leagues, regulators or others to investigate," AGA Senior Vice President Casey Clark said in an email. "This collaboration is essential to upholding the integrity of sports and wagers. These things only happen in a legal, regulated marketplace, under the intense scrutiny of 5,000-plus dedicated regulators."
In March, Titus and the gaming caucus reintroduced legislation to repeal the sports betting handle tax, an effort that began in 2014, when Nevada was the only state with legal sports betting. According to Titus, Nevada sports betting operators paid nearly $22 million in handle taxes in 2022, almost double the state's total from 2019 and more than four times the national average.
---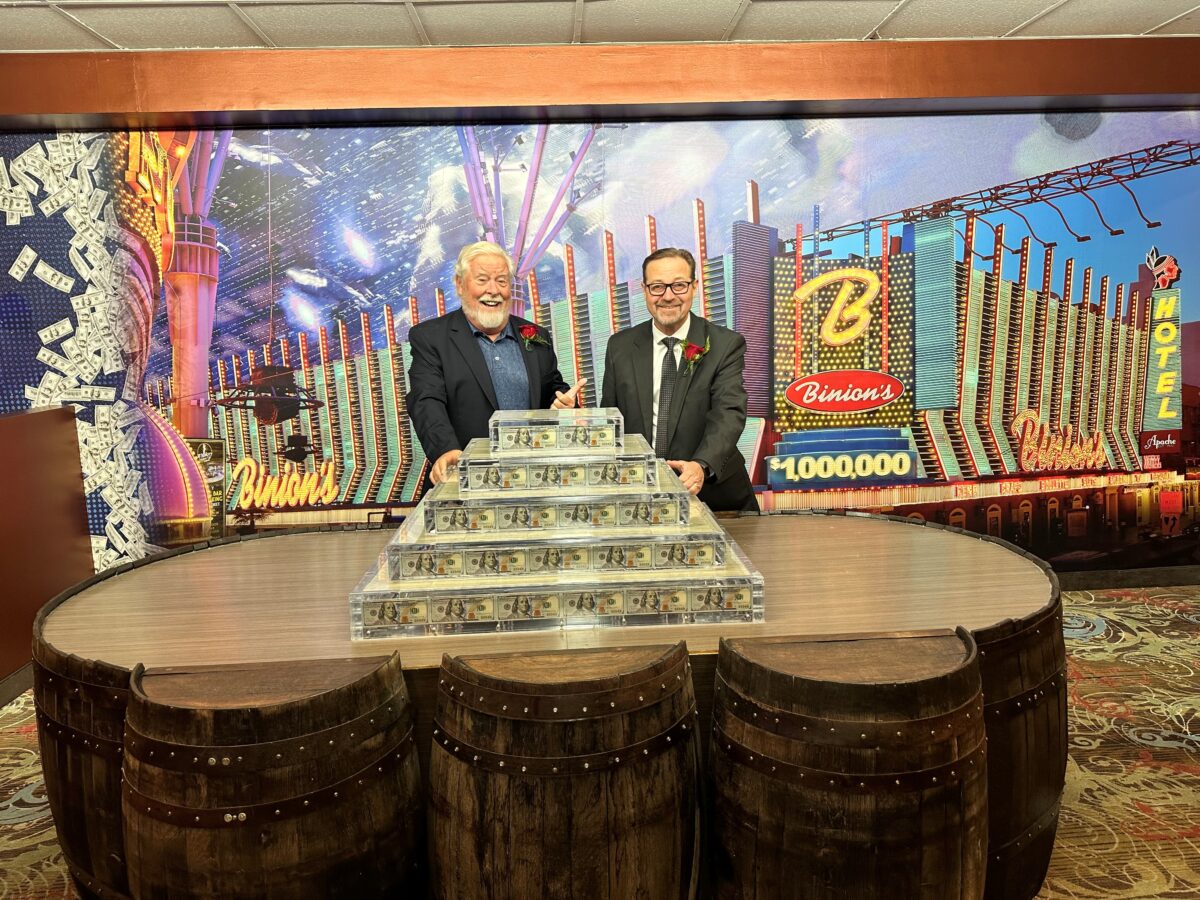 $1 million display back at Binion's in downtown Las Vegas
A longstanding tradition returned to downtown Las Vegas last week — visitors to Binion's Gambling Hall can get their photograph taken standing with $1 million.
The souvenir photos had been offered since 1954 by the Binion family, who put 100 $10,000 bills inside a glass-enclosed display in the shape of a Horseshoe to create the $1 million backdrop for souvenir photos.
The newest iteration of the $1 million display was unveiled last week by Binion's operator TLC Gaming Enterprises. Instead of a printed photo, the picture of guests posing with the display is either emailed or sent to a mobile device.
A video is also part of the attraction. It describes the process undertaken to place $42,000 in $1 bills, $688,000 in $20 bills and $270,000 in $100 bills to make up the $1 million display. Binion's officials said the display case weighs 356 pounds: 174 pounds of U.S. currency and 182 pounds of plexiglass.
The new display, located on Binion's casino floor, features a backdrop that makes it appear visitors are on Fremont Street and standing in front of Binion's while holding $1 million.
Binion's original $1 million display went away after Harrah's (now Caesars Entertainment) acquired the Horseshoe casino brand from Jack Binion in 2003. Harrah's kept the Horseshoe name when the downtown casino was sold to MTR Gaming, which subsequently dealt the casino to Four Queens operator TLC Gaming in 2008.
TLC CEO Terry Caudill brought back the $1 million display in 2008, but it was transformed into a pyramid and placed on a poker table. It went away again in 2020 during the pandemic.
---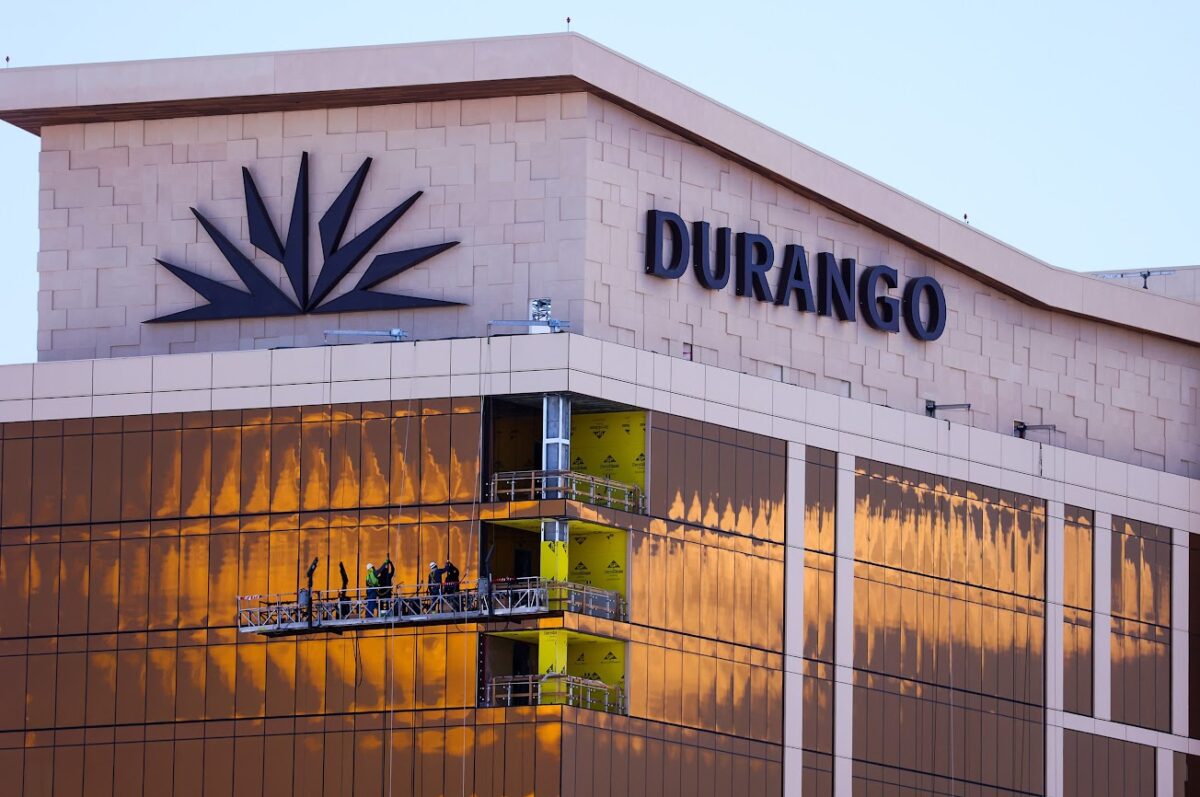 Quotable
Via research note from Stifel Financial
Gaming analyst Steven Wieczynski lowered his financial performance expectations for Red Rock Resorts over the next few quarters, given an expected summer slowdown.  But the planned opening later this year of the $750 million Durango Station could kick-start gaming results for the company heading into 2024.
"The overall fundamentals in the Las Vegas locals market continue to be healthy. We believe part of that strength is due to continued higher population/wage growth as well as favorable supply/demand dynamics. Moving forward we don't see any reason why those strong fundamentals shouldn't continue."
–          Steven Wieczynski, gaming analyst, Stifel Financial
Via research note from Truist Securities
Gaming analyst Barry Jonas hosted an investor tour through casinos in markets surrounding Chicago, but he noted an important market dynamic — Illinois' expanding slot machine route market, which has 46,000 slot machinelike video lottery terminals in 8,300 bars, taverns, restaurants and other businesses that sell alcoholic beverages. The market is dominated by Accel Entertainment, which owns Nevada route operator Century Gaming. Jonas said casino operators have seen "some lower-worth players" opt for VLTs at bars or truck stops.
"While not currently legal in Chicago's county, it's a topic that operators (and suppliers) are keeping an eye on with a new mayor — given it could add another 25,000 VGTs to the mix."
–          Barry Jonas, gaming analyst, Truist Securities
Via press release from Everi Holdings
Inter Miami, the Major League Soccer franchise that recently inked superstar Lionel Messi to a $50-$60 million per year contract, signed a deal with Everi Holdings to utilize the Las Vegas company's mobile technology and e-commerce platform. The agreement doesn't involve gaming. The technology will be used with the team's mobile app, allowing fans to find news, live scores and standings, buy and transfer tickets and browse and shop at the online team store. 
"Our collective goal is to deliver a unique matchday experience that engages supporters at greater levels, all while giving them a platform to directly interact with the numerous offerings from the club."
–          Darren Simmons, executive vice president, Everi Holdings
[ad_2]
Source link