Article content
The daughter of legendary Boston Red Sox pitcher Dennis Eckersley is hitting foul balls with authorities after she allegedly abandoned her newborn baby in the woods.
Article content
According to Manchester New Hampshire Police, officers responded to a report of a woman who had given birth in a tent in the woods in the area of the West Side Arena in Manchester, N.H., early Monday.
The cops along with emergency personnel found 26-year-old Alexandra Eckersley, who lied to them about the newborn's location. After about an hour of searching, Alexandra reportedly told authorities the actual whereabouts of the infant.
Emergency personnel found the baby, unclothed and struggling to breathe in a tent, Boston News 25 reported. The infant was transported to hospital for treatment, where doctors say the tot's health is improving.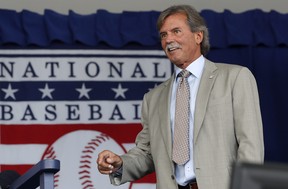 Alexandra was charged with felony reckless conduct in relation to the incident. She was also charged with endangering the welfare of a child on an unrelated warrant.
Alexandra's father, Dennis, played 24 Major League Baseball seasons between 1975-1998 as a pitcher for the Red Sox, Cleveland Indians, Oakland Athletics and St. Louis Cardinals.
Among his many accolades include the ALCS MVP in 1988, a World Series trophy in 1989 with the Athletics, and the AL Cy Young Award in 1992.
Source link