Today, the undoubted icon of baseball is Aaron Judge. Ever since the second half of September, when Judge began his 62-homer chase of Roger Maris, the Yankees outfielder became the talk of MLB town. Even after the Yanks got knocked out, the outfielder's free agency speculations spread, and every New Yorker had only one question in their mind, "Will Aaron Judge return to the Bronx?" However, baseball isn't the only sport the outfielder has excelled at, and quarterback Derek Carr didn't miss an opportunity to point that out.
ADVERTISEMENT
Article continues below this ad
After comparing Aaron Judge to Blake Griffin, who was popular for playing three sports – baseball, basketball, and football, Raiders quarterback Derek Carr spoke about the time he walked up to Aaron Judge and tried to convert him from the ballpark to the field. Notably, back in his school days, with Linden High School, Aaron Judge played as a first baseman and pitcher (baseball), wide receiver (football), and center (basketball).
Daniel Carr tried to shift Aaron Judge from baseball to football
ADVERTISEMENT
Article continues below this ad
In an interview from 2020, Derek Carr talks about the time he saw the Yankee outfielder and eventual AL MVP. And exclaimed, "There's no way this guy is just playing baseball."
Carr added, "I remember going up to him and trying to get him to play tight end. I'm like, 'Who is this dude working out with the baseball team? This guy needs to come catch some fades in the red zone from us.'"
Surprisingly or not, multiple colleges across America recruited the six-foot-seven-inch outfielder to play tight end in football, including Notre Dame, Stanford, and UCLA. However, the outfielder chose baseball, and years down the line, he definitely won't regret that decision. Or at least his pockets will not.
ADVERTISEMENT
Article continues below this ad
When did Judge finally make the decision to play baseball?
After turning down the Oakland Athletics drafting him in the 2010 MLB draft, Judge enrolled at California State University. Eventually, in 2013, the New York Yankees drafted Judge in the first round with a $1.8 million signing bonus. Ultimately, in 2016, Aaron Judge arrived in the major leagues, and his story was well known across the country.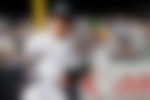 ADVERTISEMENT
Article continues below this ad
If Judge had continued to play football, which team would you want to see him play in? Let us know in the comments below!
WATCH THIS STORY: New York Yankees Star Aaron Judge's Impressive Workout Routine
Source link