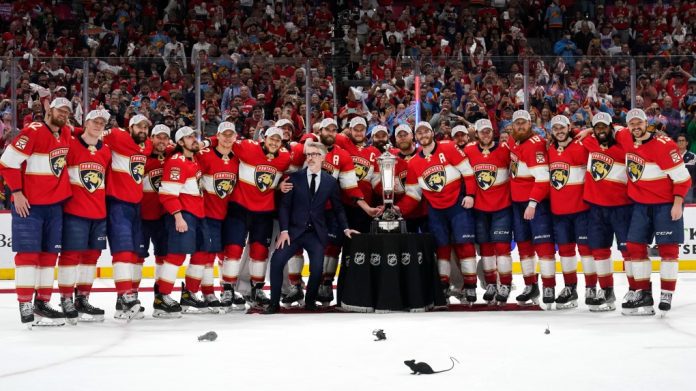 With tonight's 4-3 win over the Carolina Hurricanes at FLA Live Arena, the Florida Panthers have advanced to the 2023 Stanley Cup Final, defeating the Hurricanes four games to none in the Eastern Conference Final. The Panthers return to the Stanley Cup Final for the first time since 1996. 
The Panthers downed three of the top four regular season teams in terms of points en route to the 2023 Stanley Cup Final. Florida first overcame a 3-1 series deficit in Round 1 to best the Presidents' Trophy winner Boston Bruins, who had earned the most single-season wins and points in NHL history. The Cats then defeated the Toronto Maple Leafs in five games to advance to the franchise's first conference final appearance since 1996. In the Eastern Conference Final, the Cats bested the Carolina Hurricanes in the first four-game sweep in franchise history. The Panthers won 11 of 12 games after falling to Boston in Game 4 of Round 1, and were 6-0 in overtimes throughout the first three rounds. 
Florida's series-clinching win over Carolina marked the third instance in the League's expansion era (since 1967-68) where the lowest-seeded team reached the Stanley Cup Final, following Montreal in 2021 and Nashville in 2017. The Panthers became the first club in NHL history to enter the postseason as the lowest-seeded team and sweep a best-of-seven series to clinch a berth in the Final. 
Eastern Conference Champions exclusive merchandise is available now at Pantherland and FLATeamShop.com. Pantherland will be open special hours for fans to gear up ahead of the Stanley Cup Final.  
Stop in to shop on: 
Thursday, May 25, 11 AM- 7 PM

 

Friday, May 26, 12 PM- 6 PM

 

Saturday, May 27, 11 AM- 6 PM

 

Sunday, May 28, 12 PM- 4 PM

 
Panthers Territory Members will receive access to the Stanley Cup Final single game tickets presale beginning on Thursday, May 25. Fans interested in Stanley Cup Final single game tickets are encouraged to sign up for the Panthers 93 Society email newsletter by clicking here for early, presale access. Single game tickets become available to the general public on Friday, May 26 at 12 PM.* 
*Ticket availability is extremely limited  
Stay tuned to FloridaPanthers.com for 2023 Stanley Cup Final schedule announcement, activations, watch parties, tickets and more. Series schedule will be announced by the NHL.  
Join Panthers Territory today. A 2023-24 Territory Membership is the only way to receive access to all 2023 Stanley Cup Playoff home games, exclusive benefits, savings and events. Call 954-835-PUCK or visit FloridaPanthers.com/TerritoryMemberships for more information. 
For more sports coverage from MLB, NBA, NFL, to NCAA contact Julian Ojeda at 786-501-9082 or via email julian@communitynewspapers.com 
To stay tuned for more Sports Reports follow @jowepafm on Twitter
ABOUT US:
For more Miami community news, look no further than Miami Community Newspapers. This Miami online group of newspapers covers a variety of topics about the local community and beyond. Miami's Community Newspapers offers daily news, online resources, podcasts and other multimedia content to keep readers informed. With topics ranging from local news to community events, Miami's Community Newspapers is the ideal source for staying up to date with the latest news and happenings in the area. Additionally, the newspaper has exclusive Miami community podcasts, providing listeners with an in-depth look into Miami's culture. Whether you're looking for local Miami news, or podcasts about the community, Miami's Community Newspapers has you covered.
---

Connect To Your Customers & Grow Your Business
Click Here
---