'The Steam Room' podcast with Ernie Johnson and Charles Barkley is out with the first episode of the year. The episode started with the duo expressing their excitement for the new year and the first guest of 2023. The NBA Legend and Ernie welcomed star chef Jose Andres to the podcast. As the trio discussed Jose's various community-oriented ventures, Ernie had a list of complaints regarding Chuck's habits.
Jose Andres is a Michelin Star chef hailing from Spain. Over the years, Jose has spent time contributing to society by organizing food-relief camps for those in trouble. He is also the founder of World Central Kitchen, a non-profit organization that provides meals for those affected by natural calamities. His list of restaurants and accolades is endless. With all the work he does, for both Ernie and Chuck, Andres is an inspiration.
ADVERTISEMENT
Article continues below this ad
Jose Andres on Charles Barkley's stake tradition
When Jose Andres was on the podcast, Chuck brought up the topic of stake. He wanted Andres to tell Ernie that there was nothing wrong in eating "well-done stake". This is when Andres was left distressed while Ernie made the most use of the opportunity.
Andres stated that it was shocking to know how the 11-time All-Star ate his stake. He said, "When I learned that you eat your stake like rubber, I felt so disappointed man". While Chuck couldn't help but laugh, Ernie yelled "Thank you".
Following this, the floodgates to Ernie's complaints opened. He revealed to the listeners and Andres that Chuck has a peculiar way of eating his stake. Ernie claimed that the Hall of Famer cuts open the entire portion of steak before he takes a bit.
Read More: "You Really Think I Give a Flying F*ck?": Charles Barkley Platformed Magic Johnson's HIV Struggle and Irked 76ers Fans in 1991
Andres looked disappointed once again. He repeated that whatever Chuck was doing was completely wrong and asked him to show some respect. He said, "Pure piece of meat. It gave his life, her life for you to eat it, to chop it up before you even start. I mean, some respect here Charles". While Barkley laughed, Ernie quickly called him out for disrespecting avocados.
Charles Barkley hates avocado
ADVERTISEMENT
Article continues below this ad
After listening to Ernie's comment, Andres yelped and put his hands on his head. He recalled that he was aware of Chuck's guacamole confession. Supposedly, the 1993 MVP has never tried guacamole and doesn't like avocados. This left Chef Andres perturbed.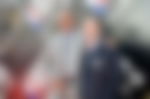 He questioned, "Who cannot like guacamole"? While referring to Chuck's personality and gameplay, Andres claimed that Chuck is a guacamole guy and he simply needs to try it. Andres ended his rant and said, "I think you need me in your life, Charles. And I'm gonna fix all these things". Throughout this segment, Barkley couldn't stop laughing.
ADVERTISEMENT
Article continues below this ad
Watch This Story – 5 times Charles Barkley and Shaquille O'Neal had heated fights on Inside The NBA
What do you think of Barkley's eating habits? Let us know your thoughts in the comments below.
Source link