MANKATO — A new goal to target was a sight for sore eyes for the No. 24 Bemidji State women's soccer team on Friday.
After an irksome first half in which the Beavers were stopped more by the woodwork than by their opponent, BSU flipped frustration into elation for a disciplined 2-0 win over Augustana in the NSIC Tournament semifinals in Mankato.
"Sometimes, whether there's any reality to it or not, it's like, 'OK, the goals are going to come on the other side,'" Bemidji State head coach Jim Stone said. "Fresh start, new direction, new goal."
Sara Wendt and
delivered those goals in the second half, booking the team's reservations for another lengthy stay in the playoffs. If there was any remaining doubt, the Beavers are now a lock for the NCAA Tournament.
First, though, they'll play for the conference tournament championship for just the second time in program history, holding hope to haul in their first-ever title.
"We're ready," fifth-year Erin Becker said. "We want it. I can tell everybody wants it so badly, so we're going to give it 100%."
Prior to envisioning Sunday's climax, BSU first had to get through a worthy adversary in Augustana (11-7-2).
There was no breakthrough in the opening half, as the east-end crossbar denied Bemidji State (13-2-5) three times.
Maria Stocke hit it twice in a four-minute span. The first time was unfortunate, but the second instance was definitely unlucky. After the latter, she threw her head back in disgust of a scoreboard that still read 0-0.
To further the torture, Tirzah Lange sized up the keeper and struck the crossbar herself in the 38th minute.
Despite the Beavers' best efforts, that pesky pipe held the match scoreless by halftime. It had shades of last year's Sweet 16, when BSU hit the woodwork three times and slumped into
an unlucky 4-1 loss to Central Missouri.
"We've hit enough of those this year to last a couple seasons," Stone said. "It'd be nice if a couple of those would start bouncing in, but at the end of the day, we looked at it as a positive piece because we were creating opportunities. We felt like eventually one was going to drop for us."
Bemidji State reversed its luck on the other end of the pitch in the second half. But first, BSU goalkeeper Alyssa Stumbaugh preserved the shutout with a diving save in the 61st minute — on a ball she hardly saw.
"In my head the whole time, I'm just asking God to send the ball straight to my hands," said Stumbaugh, who finished with three saves and pushed the team's shutout streak over 500 consecutive minutes. "I saw
step to it, but I couldn't see the ball. I lost track of the ball. Dahl really cut the angle down (but) it was a close shot and I couldn't really see it. God led the ball straight to my hands."
That sprung the Beavers on an attack the other way. With disciplined possession and a Lauren Hodny pass through the backline, Wendt muscled a shot through the waiting hands of Vikings keeper Jillian Barkus in the 62nd minute.
Allyson Smith doubled the advantage in the 68th minute, pairing with Becker on a give-and-go and tapping in a 2-0 lead that held to the finish.
"Sara scored and the momentum definitely picked up," Becker said. "We got more confidence. We just kept driving, wanting another one, and Ally put it away. That was good for momentum."
Bemidji State will next compete against fourth-seeded Minot State for the NSIC Tournament championship at 1 p.m. on Sunday, Nov. 6, in Mankato. Minot State upset top-seeded Minnesota State after six rounds of penalty kicks in the other semifinal.
Bemidji State 2, Augustana 0
AU 0 0 — 0
BSU 0 2 — 2
First half — No scoring.
Second half — 1, BSU GOAL, Wendt (Hodny), 62'; 2, BSU GOAL, Smith (Becker), 68'.
Saves — Stumbaugh (BSU) 3; Barkus (AU) 7.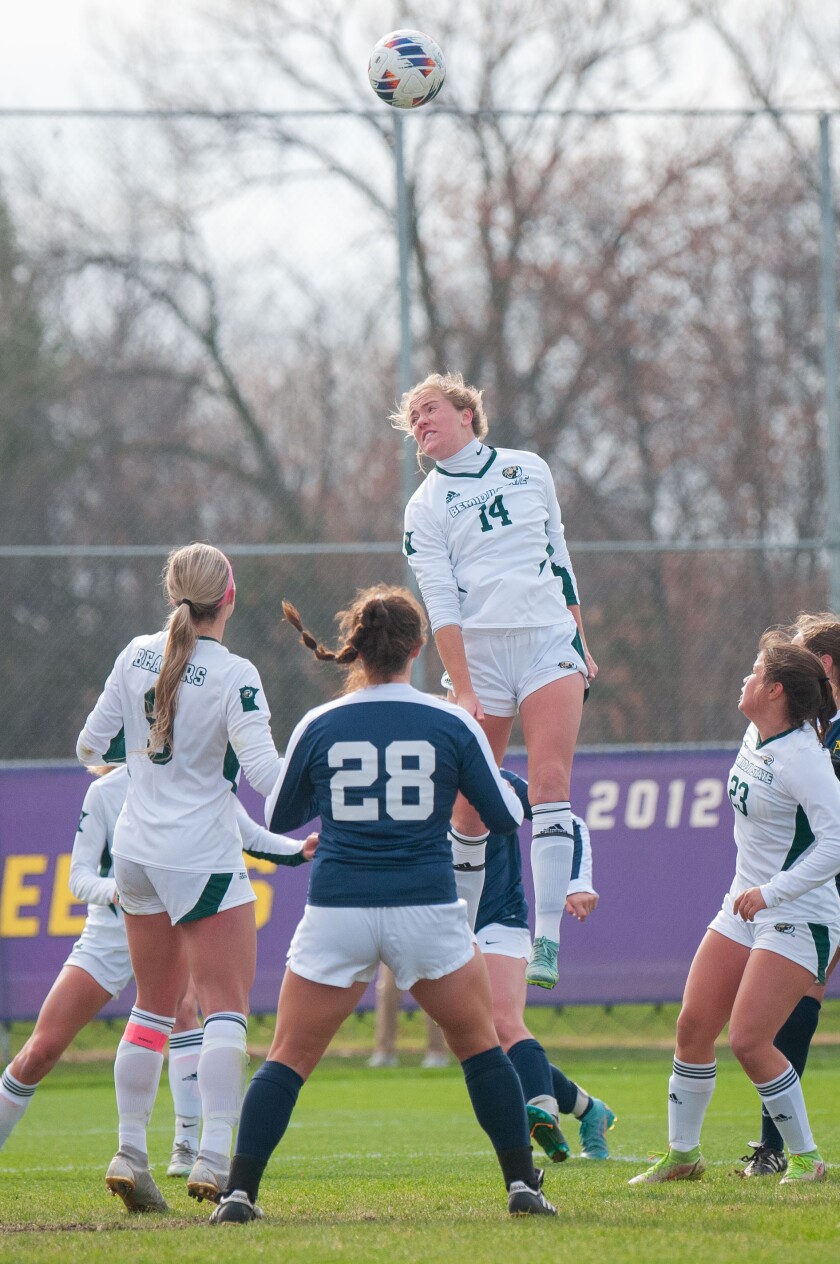 window.fbAsyncInit = function() { FB.init({
appId : '880572159243904',
xfbml : true, version : 'v2.9' }); };
(function(d, s, id){ var js, fjs = d.getElementsByTagName(s)[0]; if (d.getElementById(id)) {return;} js = d.createElement(s); js.id = id; js.src = "https://connect.facebook.net/en_US/sdk.js"; fjs.parentNode.insertBefore(js, fjs); }(document, 'script', 'facebook-jssdk'));


Source link