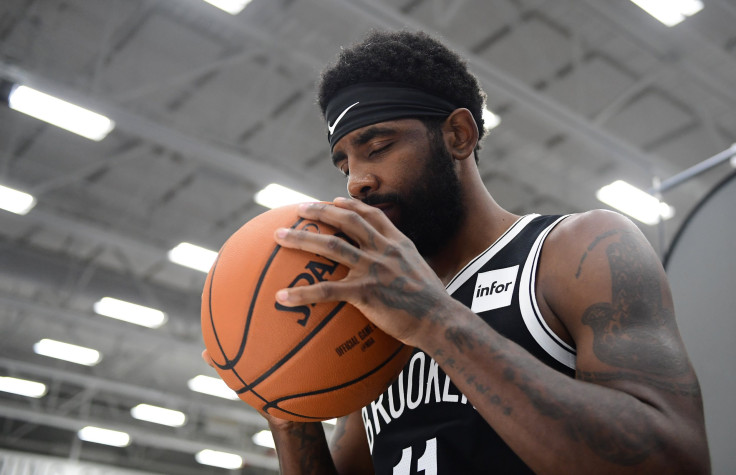 KEY POINTS
Kyrie Irving has been speaking with SIA Collective owner Devlin Carter for a collaboration
The Brooklyn Nets point guard was dropped by his longtime partner Nike in October
It was unclear if anything would come out of Irving's talks with Carter
Brooklyn Nets point guard Kyrie Irving is in talks with a new shoe company after getting dropped by longtime partner Nike, singer-songwriter Musiq Soulchild claimed.
Irving and celebrity footwear designer Devlin Carter have been speaking in earnest about a future collaboration, Soulchild, whose real name is Taalib Hassan Johnson, told TMZ at DASH radio in Los Angeles, California, this week.
"I think that will be an awesome decision," Johnson, who learned of the development after securing a pair from Carter's Oakland-based SIA Collective shoe company, was quoted as saying.
Nike officially cut its eight-year relationship with Irving after the latter made social posts linking to an anti-Semitic film in October and initially refused to apologize.
At the time, the company was set to release its newest collaboration with Irving, the Kyrie 8. But those plans were scrapped following the National Basketball Association (NBA) champion's temporary suspension by the Nets.
"At Nike, we believe there is no place for hate speech, and we condemn any form of anti-Semitism. To that end, we've made the decision to suspend our relationship with Kyrie Irving effective immediately and will no longer launch the Kyrie 8," the shoe giant said in a statement.
Nike founder Phil Knight, for his part, claimed during an interview with CNBC that Irving "stepped over the line."
"He made some statements that we just can't abide by, and that's why we ended the relationship. And I was fine with that," Knight said.
Irving ended up issuing an apology online following his suspension, saying he "initially reacted out of emotion to being unjustly labeled antisemitic, instead of focusing on the healing process of my Jewish brothers and sisters that were hurt from the hateful remarks."
"I want to clarify any confusion on where I stand fighting against antisemitism by apologizing for posting the documentary without context and a factual explanation outlining the specific beliefs in the documentary I agreed with and disagreed with. I had no intentions to disrespect any Jewish cultural history regarding the Holocaust or perpetuate any hate," Irving's now-deleted Instagram post read.
Irving, who returned from his Nets suspension last month, has written messages such as "I AM FREE" and "Logo Here" in his recent games.
Johnson did not know if anything would come out from the talks between Irving and Carter, but he said he was hopeful it would push through.