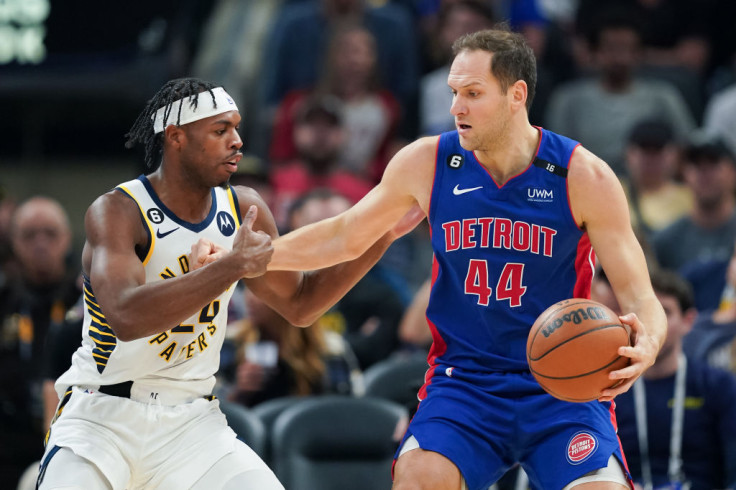 KEY POINTS
Moritz Wagner was involved in another intense moment, this time with Killian Hayes
Several players were thrown out of the game after sparking a massive brawl
The NBA is expected to give out stiff sanctions
The incident happened with about 34.7 seconds left in the second quarter of the Pistons vs. Magic showdown at the Little Caesars Arena on Wednesday, December 28.
The 25-year-old was unable to control an errant pass from a Magic teammate, leading to a chase backcourt with Killian Hayes ahead of Wagner.
However, the German cager gave the No. 7 overall pick of the 2020 NBA Draft a shove towards the Detroit bench.
Also caught on camera was Hamidou Diallo taking exception to the actions of Wagner, pushing the German in the back.
Hayes also retaliated by striking Wagner in the back of the head, resulting in the 6-foot-11 cager stumbling towards the Detroit bench and sparking a massive altercation between players of both sides.
When the smoke cleared, Wagner, Hayes and Diallo were all ejected from the game.
Wagner was charged with a flagrant foul two, while Hayes and Diallo were assessed technical fouls.
The league is expected to review the incident and will likely hand down further punishment in the coming days.
The Pistons went on to win the game, 121-101, with Alec Burks leading the way with 32 points, four assists, and two rebounds.
Saddiq Bey backed up Burks with 28 markers, eight boards, and four dimes.
The Magic were led by Franz Wagner who finished with 19 points and six rebounds.
Meanwhile, Wendell Carter Jr. supported Wagner with 19 markers and six boards.
Wagner finished with seven points and four rebounds for the Magic before getting ejected.
Meanwhile, Hayes had five points and three assists and Diallo had 11 markers and five boards off the bench.
For Wagner, getting involved in a ruckus is nothing new.
Dallas Mavericks star Luka Doncic had to be held back after he was frustrated with the Magic player in a previous game, while Milwaukee Bucks talisman Giannis Antetokounmpo was once ejected from a contest when he headbutted the Michigan product.
It was the second meeting between the Magic and Pistons this 2022-23 NBA season.
Both are scheduled to meet again on February 23, this time at the Amway Center in Orlando.