Play in the NBA the Niantic way, as the mobile publisher has released NBA All-World for mobile devices today.
---
Niantic has officially launched its new mobile basketball game as players can now experience NBA All-World. This is the company's first officially licensed NBA title, as they allow you to play and compete against other players in around the world. Much like you would in some of their other titles, you get out of your house and explore the world around you to discover basketball stars to put on your roster. You can also find items and boosters to help you out, as well as challenges to take on to improve your team and roster. Then hit the court against other players to see who has the better lineup. You can play the game right now on iOS or Android.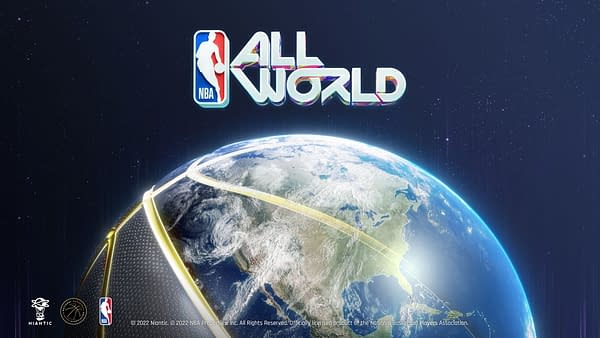 "NBA All-World brings the world of the NBA to neighborhoods around the world. Fans can explore their own neighborhoods to encounter today's NBA players, recruit them to their teams, level them up and compete to become rulers of their local courts. Players will have the opportunity to outfit their squads with the latest gear by searching for real-world drops from a variety of well-known brands. In the game, players can additionally show off their teams, chat with friends in the game and compete in 1v1 tournaments to win exclusive in-game items.
Explore Your World: Get out and move in the real world to discover NBA players to compete against and recruit to your roster, as well as Gear, Boosts, Challenges, and more.
Build Your Team: Go head-to-head against today's NBA stars in a variety of challenges to recruit new players. If you've already recruited a player, challenge them again in your next encounter to practice your shot and earn more Cred. Recruit stronger players as your Team Level increases. ​
Push Your Limits: Power up players with Offense, Defense, and Fitness Boosts. Make sure you keep Energy high with Energy Drinks.
Rule the Court: Compete in leaderboard challenges at more than 100,000 basketball courts in the real world with Rule the Court. Challenge friends and other players for the top spot.
Rep the Lifestyle: Pick up rare Gear from some of your favorite brands at Drop Zones. Look out for special Gear that improves player stats, and outfit your team with sneakers and accessories that help you stand out from the crowd.