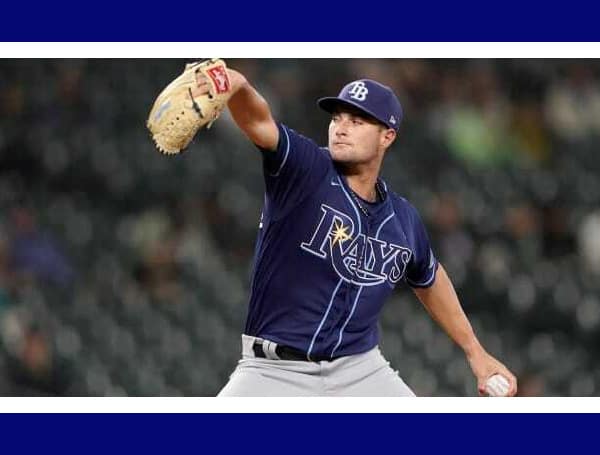 ST. PETERSBURG, Fla. – Leave it to Shane McClanahan to restore order. A night after the Rays endured the worst loss in team history, the 26-year-old lefty limited the Blue Jays to one run and four hits in seven sparkling innings of a 7-3 win Wednesday evening at Tropicana Field.
McClanahan, who won his MLB-best eighth game (8-0) and lowered his ERA to 1.97, threw 82 pitches, including 11 in each of the first four innings. He struck out seven and for the first time this season did not walk a batter. The most pitches he threw in any inning was 15, in the sixth, and only twice did he go to a three-ball count: Whit Merrifield in the second and Danny Jansen in the fifth.
"As long as I help this team and put then in a good situation to win, that's all I truly care about," said McClanahan, who improved to 4-2 in his career against Toronto. "I always want to put us in the best possible situation that I can."
In the news: Diana Flores Becomes First Flag Football Player With Jersey In Pro Football Hall Of Fame
The win didn't come easy. With the Rays leading 5-1 after seven, manager Kevin Cash opted to go with Jason Adam. The righthander ran into problems in the eighth when the Blue Jays scored twice to make it 5-3. With one out, Kevin Kelly came on and got the only batter he faced, Matt Chapman, to ground into a double play on an exceptional play by second baseman Taylor Walls.
"You didn't know which way that inning was going to go," said Cash. "But when it was hit to Taylor, you started to feel a lot better about it."
With the crisis averted, the Rays (36-15) added two runs in their half of the eighth before Pete Fairbanks finished things off.
First setback: After opening his MLB career 3-0 with a 3.45 ERA in four starts, Taj Bradley lost for the first time Tuesday night. The 22-year-old righthander allowed four runs in as many innings of what turned out to be the worst loss in Rays' history, 20-1 to Toronto at the Trop.
Bradley still managed to impress. After allowing the first three batters of the game – George Springer, Bo Bichette and Vladimir Guerrero, Jr. — to reach and with a run scoring, the righthander fanned the next three batters to minimize the damage. Bradley struck out seven and did not walk batter, though he threw 80 pitches in four innings.
"Twenty pitches an inning, that's not good," he said. "As a starter, I want to go deep. I want to get quick outs. Strikeouts are nice, but that's not what I look for. Happy for no walks, but now I know that I need put (batters) away early so that I can go deeper in the game and watch my pitch count."
Bradley has been summoned from Triple-A Durham three times this season, the first when Zach Eflin went on the 15-day injured list April 11. Injuries to Jeffrey Springs (Tommy John surgery) and Drew Rasmussen (flexor strain, 60-day IL) have altered the rotation to the point Bradley should be a fixture following his most recent promotion last Thursday.
"We are going to have to have some patience with him," said Cash. "He is learning on the fly here. I am very confident he is going to help us and he is going to be a very good pitcher."
In the news: Rays' Homestand Continues Against Blue Jays, Kevin Kiermaier
Pitching in: Luke Raley took the mound for the second time this season in the aforementioned 20-1 loss to the Blue Jays. The righthanded thrower, who bats from the left side, came on in the eighth with Toronto leading 10-1.
Cash was hopeful of getting two innings out of Raley, who struck out Guerrero and allowed one run in the eighth. He retired the first two batters in the ninth before the floodgates opened, including allowing a grand slam to Guerrero, who adjusted to the 50-mph pitches. Christian Bethancourt came on to spell Raley and allowed the final three runs in Toronto's nine-run ninth.
"Scared," was what Raley said when asked how he felt on the mound. "It's not my favorite place to be. I have told (Cash) before that I got rocked in high school, so I don't know what these guys would actually do to me if I tried to pitch. I just tried to lob it over the plate and save the bullpen."
Raley pitched an inning and allowed two runs in a 14-5 loss at the White Sox in April.
Android Users, Click To Download The Free Press App And Never Miss A Story. Follow Us On Facebook and Twitter. Signup for our free newsletter. 
We can't do this without your help; visit our GiveSendGo page and donate any dollar amount; every penny helps.