ROCHESTER – Jiri Kulich shook his head and belted out a laugh.
Enough time has passed that he and his teammate, Isak Rosen, can joke about the latter's miserable string of bad luck. Kulich had never seen anything like it. Neither can recall the exact point in the season, but Rosen couldn't stop hitting the post.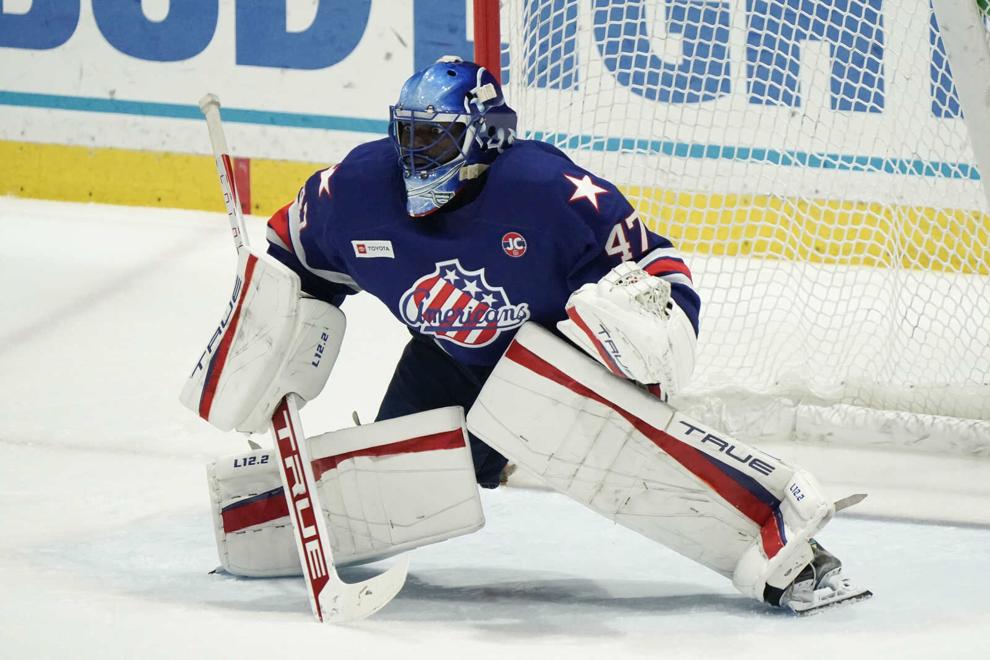 Defenseman Joe Cecconi, a Youngstown native and Buffalo Jr. Sabres alum, scored 14 seconds into the game and his goal was one of two by Rochester in the first period of a 5-1 win that put the Amerks ahead 1-0 in the best-of-seven Eastern Conference final series.
Every shot, no matter where it was taken, hit steel instead of mesh. Finally, when Rosen ran out of possible solutions, he went to Kulich and demanded they stop a friendly competition in the Rochester Americans' shooting room at Blue Cross Arena.
"We have to stop playing this game," Rosen pleaded.
"He hit the post, maybe, 10 times in a row!" Kulich, a first-round pick in July, recalled. "So, we had to stop."
Savoie will have to earn his ice time. But there's confidence throughout the organization that it won't take him long to do so. 
The objective of the game was simple: Hit either post or the crossbar as many times as possible. Lighthearted ribbing filled the room between each ping. Kulich is typically the instigator. He loves to remind Rosen about Sweden's loss to Czech Republic in the semifinal of the IIHF World Junior Championship in January when the pair of Buffalo Sabres prospects competed against each other. Some of the conversations carried a serious tone this season, though.
If one was having a crisis of confidence, the other made sure it didn't last long. When frustration was mounting during their first season in the United States, Rosen assured Kulich he's a "pure goal scorer." If Rosen returns to the Amerks' bench following a frustrating shift, Kulich typically leans over and says, "Shoot!"  
Kulich and Rosen compete against each other each morning. Their game in the shooting room has changed, but the desire to win remains. The competition doesn't stay within those four walls, either. It also occurs in practice each day and whenever they're in the weight room. The dynamic has helped the teenage rookies succeed in the American Hockey League's Calder Cup Playoffs, which continue for the Amerks with Game 2 of the Eastern Conference final on Thursday in Hershey, Pa.,against the Bears.
Kulich has used his heavy left-handed shot and attacking style of play to score 30 goals since opening night in Rochester. His six-game goal streak that ended in Game 1 was tied for the longest in the AHL playoffs since Peter Holland in 2014. Rosen has scored four goals in seven games since a challenging start to the postseason, and uses his elite speed to turn defenders into traffic cones. Their dynamic, like that of Jack Quin and JJ Peterka last season, is a driving force behind their rapid development in Rochester.
"We're really good friends, but you don't want to be worse," explained Rosen, a first-round draft pick in 2021 who turned 20 in March. "If he scores, I want to score. If I score, he wants to score. It works like that. I think that's really good for us. We love to see each other have success, but we challenge each other."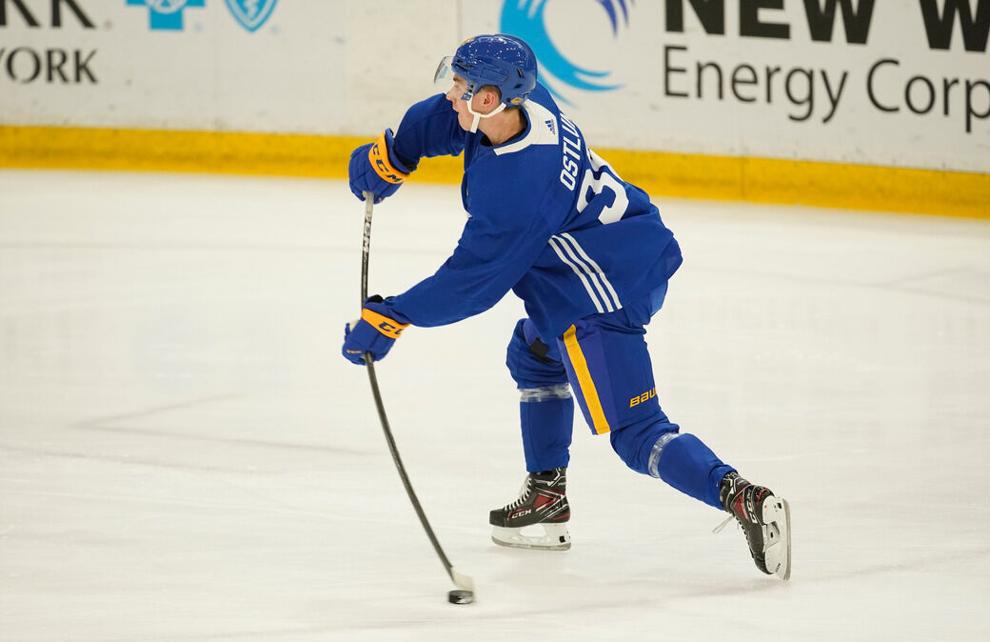 The pair of Sabres prospects won't be in the lineup Tuesday night when the Amerks play the Hershey Bears in Game 1 of the Eastern Conference final, but they were sent to Rochester to receive an introduction to life in the AHL.
Kulich and Rosen were on the ice together for the first time in July at the Buffalo Sabres' development camp, yet only the former recalls – or at least claims to – what took place that week and makes a habit of bringing it up to Rosen all these months later.
"He always tells me that he thought I was (terrible)," Rosen shared, laughing off the playful jab.
No longer within earshot of Rosen, Kulich finally admitted following a recent practice that he doesn't remember much about development camp. He was selected with the 28th pick in the draft in July before skating on the same team as Rosen and Peterka for the 3-on-3 event. Some memories from the week didn't stand the test of time, but Kulich still has some from world juniors in August.
Rosen quickly noticed that Kulich was Czech Republic's top player. On the other side, Kulich developed a respect for how Rosen attacked using his speed and possessed a left-handed shot that goalies had trouble stopping. Don't tell Rosen, but Kulich thought the Swedish winger was going to be one of the top players at Prospects Challenge in September.
"We're the same age, first year over, and I think it's just come a little bit natural that we compete with each other and also be good friends because we're in the same situation," added Rosen, who was drafted 14th overall in 2021. "It's just the perfect fit for us to be good friends, but still competing our (butts) off when we're on the ice against each other, to make ourselves better."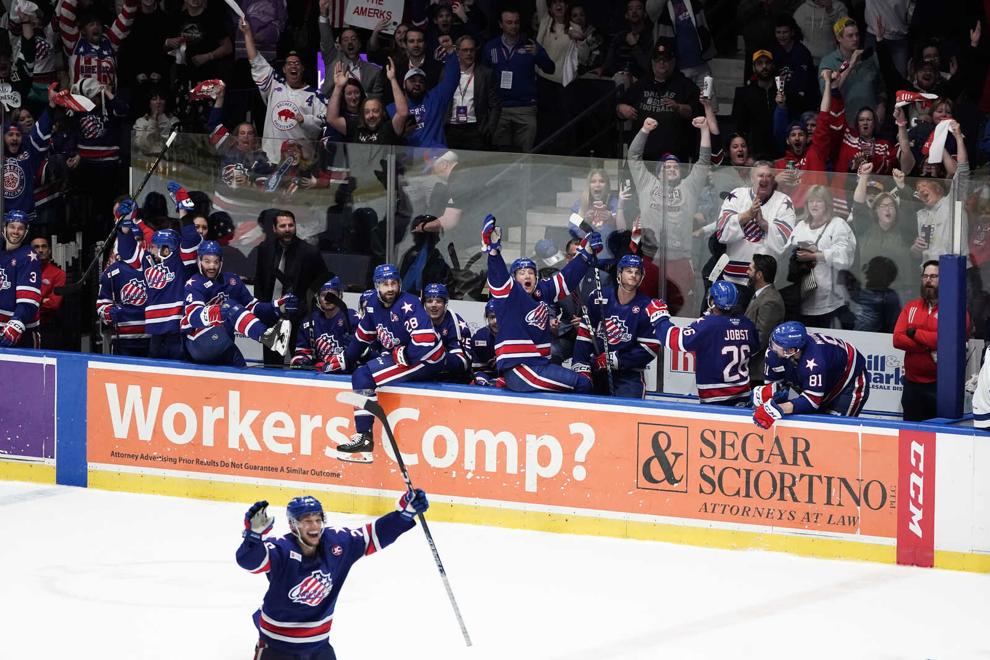 "This means a lot for the Sabres. The last time the Amerks got to this point, they lost to Milwaukee in five games in a series that saw them drop two 'home' games in then-HSBC Arena as Blue Cross was taken up by a circus. Ryan Miller, Jason Pominville, Paul Gaustad, Derek Roy were on that team and Thomas Vanek and Daniel Paille joined the next season while the NHL lockout was going on," Mike Harrington writes.
Their friendship developed organically once they joined the Amerks for training camp. At first, Kulich gravitated toward Lukas Rousek, a fellow native of Czech Republic, and Rosen hung out with Swedes Filip Cederqvist and Linus Weissbach. Eventually, Rochester coach Seth Appert noticed Kulich and Rosen around each other all the time. If they weren't in the shooting room, they were in the gym. They stayed on the ice together after practice to work on specific drills. The dynamic is similar to those Appert saw at the USA National Team Development Program, where he coached the top 16- and 17-year-old players as they competed against one another each day in practice.
"It is the secret sauce of the national program," Appert said. "Do I think as coaches, the coaches before me, with me and then after me, are really good coaches there? Yes. The strength coach is unreal there, now that we've revamped the strength and conditioning program there. But, to me, the best thing that happens in the national program is you get the 22-23 best players in the country on the ice every day. … When you have peers of the same age, and you're competing to try to be the guy in this organization every day, it's a little pecking order. It's really healthy if done the right way. That's part of all our jobs – coaching staff, leadership core – is that we create an environment where it's a healthy competition, and I think we've been able to do that at least for these two years."
For both, the adjustment to the AHL required time and patience. It was clear that teams were determined to check Kulich and Rosen each time they touched the puck. Kulich had six goals in 24 games when he left in December to join Czechia for world juniors. Rosen had three goals in 25 games. Both were ready for a break from the pressure of trying to move closer to the NHL. The Under-20 tournament in Nova Scotia was an opportunity to test their skills against their peers, and both were considered leaders on their respective team.
Kulich, who turned 19 in April, produced seven goals – two fewer than Connor Bedard, who led the tournament – and Rosen was tied for second on Sweden with six points in seven games. The two met in the semifinal, where Kulich scored the game-winner to send Czechia to the gold-medal game, where it lost to Canada. Rosen earned a prime scoring opportunity in the loss to his teammate and friend but couldn't convert. Don't worry, Kulich won't let him forget about it.
"He had a really good move that was a really good highlight, but his shot was terrible," Kulich said, laughing like a hyena outside the Amerks' dressing room. "I've told him."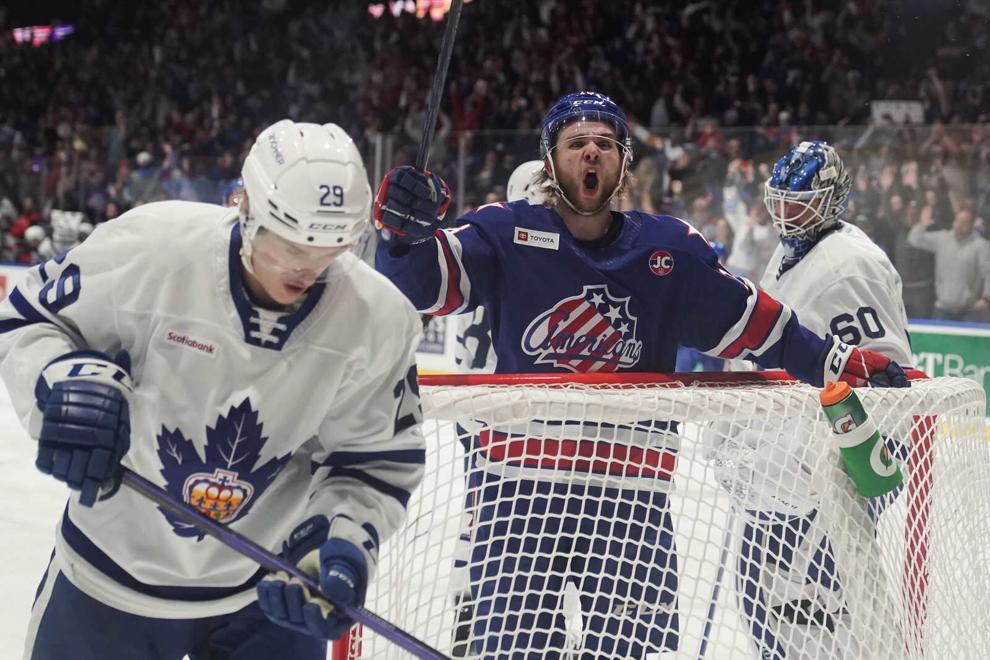 Jiri Kulich and fellow Buffalo Sabres first-round draft pick Isak Rosen scored impressive goals Wednesday to help the Rochester Americans complete a three-game sweep of the Toronto Marlies with a 8-4 win.
Valuable lessons gained through challenging times have translated to success in the postseason. Rosen was held scoreless with one shot on goal in Games 1 and 2 against Syracuse. The coaching staff sat him down and asked, "How do you feel?" The Crunch's physical style of play wore on Rosen. He quickly saw how playoff hockey is far different than the regular season. The coaches reminded him that he'd produced in similar circumstances before. They saw him score 14 goals in the regular season. He responded with four goals and eight points in his next seven games.
Kulich was unavailable for the two games in Syracuse because of a bothersome injury that required rest. He watched his teammates from afar and noticed the games were faster and more physical. When cleared to return, Kulich was an immediate difference-maker. He had 20 shots on goal during a six-game goal streak that ended Monday, and he has scored 28 goals in his last 52 games. Among players since 2013 to compete in the AHL playoffs within one year of their draft, Kulich ranks first with 1.42 points per game. His seven-game point streak is currently the longest in the league.
"They're both pretty special to watch, honestly," Amerks winger Brett Murray said. "They both have unbelievable feats and stats this season, and even this postseason. I got to credit quite a few of those wins so far in the postseason to both of them. Yeah, I see JJ and Jack in both of them, for sure. I think they might be a little more shot first than maybe Jack and JJ were, but they're both still unbelievable players, playmakers and goal scorers, so it is really fun to watch two young players like that succeed."
Months have gone by since Appert thought of the duo as kids. He often hears from people, including media, that his best players are "children." Another reminder occurred last week at the PGA Championship practice round when Kulich and Rosen bought the same bucket hat at the pro shop. Appert chuckled when he saw them. Despite their age, they've helped each other accomplish what few have as rookies in the AHL.
"I'm like, 'That's what my daughter would buy in there,' " Appert joked. "And I was laughing at them. She's the same age, so it makes sense. Those little moments, you get reminded of how young they are, but I think during these playoffs, we certainly make sure we keep talking to them. Little reminders (on how to be better). … They're getting big minutes. It's not like they're only playing 11 or 12 minutes a night. It's a real credit to the two of them."
Source link