Through his hosting skills or his career as a comedian, former NFL star Anthony "Spice" Adams never missed an opportunity to make his fans laugh. His social media account has been flooded with pictures of him transforming star photoshoots into versions of himself. Previously, he selected an NBA player's recent photoshoot image, which was of NBA great Dwyane Wade. 
Earlier this week, Wade shared an image of his recent 'Golden Hour' photoshoot that was well received by his fans, as seen in the comments. Additionally, he included another slide that showed the background work of that photoshoot.
ADVERTISEMENT
Article continues below this ad
This prompted Adams to remake this image and make a version of himself that appears in it. Immediately after he posted the image of Wade and himself doing the same pose, fans across the internet were in a frenzy.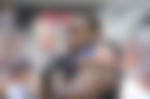 The number of people sharing this image and showing their love grows by the minute. As a result of this post, Wade himself commented on the image, saying "noooooooo" along with several laughing emojis. It looks very impressive and promising the way Adams has posed and styled the dress to mirror Wade's.
Anthony "Spice" Adams' interpretation of Dwyane Wade's recent photoshoot
As Wade went for a golden shimmery look in his post, Adams seems to be trying his best and pulling out golden clothes from his closet to recreate this. By using the editing skills he had, he was able to make a background and toes that were similar to Wade's.
It seems that Taraji P. Henson, Nishcelle Turner, and the NBA world were in splits after the NFL veteran's post. In response, Henson said "I am scared to swipe", according to Turner, she described the look as saying, "Help Jesus".
ADVERTISEMENT
Article continues below this ad
There were even some who asked, "What are you doing wit yo Big Toe?" Some also noted, "The agony of deFEET." A few even wondered, "Why do you even own a shirt like that." The content he posts on his social media is full of funny images and videos, which is why his fans love it.
ADVERTISEMENT
Article continues below this ad
Watch This Story – 14 years after father, LeBron James' son Bronny James follows his footsteps by signing an iconic deal with 3 billion brand
What are your thoughts on the image after seeing the remake from Spice Adams? Let us know about it in the comments below.