It's one of the largest returns for a single player in recent WHL history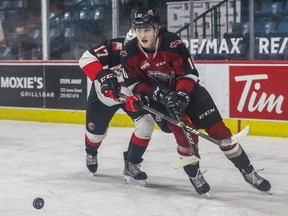 Article content
"Bittersweet."
Article content
That was the first word Vancouver Giants general manager Barclay Parneta used when asked about his feelings after confirming Sunday that he had traded team captain and first-line forward Zack Ostapchuk to the Winnipeg Ice in exchange for four players and four WHL Draft selections, including three first-round picks.
It's one of the largest returns for a single player in recent WHL history. And it's strictly a four or five-month rental for the Ice, considering the 19-year-old Ostapchuk is a signed Ottawa Senators prospect who's a lock to be playing somewhere in their system next fall rather than returning to WHL as an over-age.
Winnipeg (29-5-0-0) has the WHL's best record and is first in the Eastern Conference.
Article content
Vancouver's optimum contending window looks to be a year or two down the road. The Giants' plan had been to call on Ostapchuk as a role model for the current batch of younger players, but it's now to try to aid that group going forward with all that the trade brought in.
Ostapchuk, a fourth-year Giant, finished with 48 goals and 96 points in 153 regular season games.
Article content
In return for Ostapchuk, Vancouver receives 19-year-old right-winger Skyler Bruce and 17-year-old centre Connor Dale as well as unsigned 15 year olds Owen Brees and Hudson Landmark, who are a defenceman and a forward, respectively. There's also Winnipeg's first-round picks in 2024, 2025 and 2026, plus a 2024 fifth rounder.
Bruce, who's from Winnipeg, is a 5-foot-11, 176-pound right-shot who has seven goals and 22 points in 33 games. He had 16 goals and 37 points in 68 regular season games last season. He's good bet to be one of Vancouver's three 20 year olds next season.
Dale, who's from St. Albert as well, has three goals and eight points in 24 games.
Brees, who's from Lethbridge, was a 2022 fifth-round selection by the Ice, while Landmark, who's from Sherwood Park, Alta., was an eighth rounder.
Article content
The rumour mill says that the Giants received two or even three substantial offers for Ostapchuk, a 6-foot-3, 198-pound left-shot forward. Kamloops was believed to be one of the teams that was interested.
Ostapchuk was Ottawa'a second-round pick, No. 39 overall, in the 2021 NHL Draft and signed his three-year, entry-level contract in September 2021.
Article content
Parneta repeatedly said that he wouldn't shop Ostapchuk and needed to be bowled over to move him to another team and that he needed a return like the Prince Albert Raiders got from the Thunderbirds in the Nolan Allan trade, which saw Prince Albert receive three players and six picks for defenceman Allan and a forward prospect.
Ostapchuk plays in all situations. He plays both wing and centre. He was superb in the playoffs last year for Vancouver, when he put up seven goals and 23 points in 12 games over two rounds.
The trade reunites Ostapchuk with Matthew Savoie, 19, the Winnipeg forward who's a former minor hockey teammate and said to be one of Ostapchuk's closer friends in the game. They're both from St. Albert, Alta.
Article content
The Ice and Giants made a deal at last year's trade deadline, with Vancouver sending 19-year-old defenceman Tanner Brown to Winnipeg for a 2022 first-round pick.
The Giants were said to be interested in Bruce, in particular, even then.
Also at last year's trade deadline, Vancouver shipped out team captain and first-line forward Justin Sourdif, who was 19, to the Edmonton Oil Kings for 19-year-old forward Jacob Boucher, a 2022 first and a 2025 first.
Email: SEwen@postmedia.com