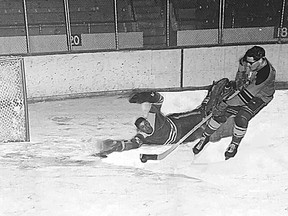 Article content
Over its storied history in hockey, Kingston has produced its fair share of good, solid players, not to mention a bunch of blue-chip skaters whose sublime skills helped them stickhandle to fame and fortune and play on the sport's grandest stages.
Article content
"Weiner" Dowdell — we'll get to his lengthy real name in a moment — is not a member of the latter lodge, although in his case, fame is relevant. He was never a terrific talent, never cashed a big-league paycheque, never collected so much as a thin dime in some six decades in the puck game. He was, however, handsomely compensated with other payoffs, the kind that mean more in the long run: accolades, respect, unmitigated admiration, and yes, love. In short, we're talking about the intangibles that to this day still pepper this unflappable character. L-a-u-g-h-t-e-r are the first eight letters in Weiner's alphabet.
"Weiner has to be one of the most popular, well-liked hockey players this city's ever had, still is," lauded former pro Barry Brooks, "and that includes the NHL guys, too. There's something about him. People warm to him. He's a magnet, and the truest friend you could ask for."
Article content
While Dowdell did skate on championship teams in junior, intermediate and senior loops, he also endured games during which he languished on the bench for higher-calibre teams that had summoned his services in a pinch. Yet even on nights when his ice time was measured in seconds or not at all, Dowdell found a way to endear himself to teammates.
Take for instance the time during a Kingston Aces/Barrie Flyers senior A game eons ago when call-up Dowdell, his club trailing by a goal late in the game and him still anchored to the bench, was picked to serve a teammate's minor penalty and told to return to the bench immediately after the penalty expired. Instead, the irrepressible Weiner, sniffing a few seconds of unauthorized ice time, flew out of the sin bin and straight into the action in the Barrie end, where a Flyers defenceman promptly hogtied him and spun him around like a top just as Kingston sniper Syl Apps Jr. unloaded a slapshot. The speeding puck tipped off Weiner's stick blade and into the top corner of the net, the equalizer in an eventual 4-4 deadlock.
Article content
Dowdell's post-game interview in the dressing room was briefly interrupted by Aces coach Danny McLeod. "McLeod walked by and grabbed me by the cheek of my ass," Weiner recalled. "He said, 'Helluva game, big fellah!' I saw the ice for all of 15 seconds!" On the wall of "Weiner's Bar," in the home Dowdell shares with longtime partner Celeste Denesuik, is a Whig-Standard clipping from that game that included a flattering albeit inaccurate description of the tying marker: "Dowdell scored a picture goal at 15:06 of the third period…"
And how about the time Weiner, who worked in the mortgage financing business, called the cops on his boss, R.H. Murray, an Associates Financial area supervisor who oversaw eight area branches, including the one in Kingston that Dowdell managed. The story goes — and Weiner's old teammate Rick Gerow, a linchpin on top-shelf Napanee Comet teams, tells it beautifully — that Murray, concerned that his employee was spending too much time commuting to Napanee to practise and play, somehow got his hands on Weiner's team-painted yellow skates with "No. 6" emblazoned on the side. Murray put the skates in the trunk of his Pontiac, then phoned Dowdell. "My friend," the boss said, "your hockey days in Napanee are over." Weiner, tongue firmly lodged in cheek, answered, "You got me there, R.H."
Article content
Dowdell put a counteroffensive to work. He called a teammate, a local policeman. He clued in the lawman, telling him his yellow skates could be found in the trunk of a certain green Pontiac parked outside the main office of Associates Financial in Kingston. The prank was set in motion. The policeman showed up at Murray's office and hinted that the supervisor might be in possession of stolen property and would he please open his car trunk. Murray nervously complied. The cop spotted the yellow blades with the No. 6 and said, "Can you explain those skates, sir?" Murray, realizing he'd been hoodwinked, rolled his eyes and grumbled: "That goddamn Dowdell!"
As "Bubba" Brooks hinted earlier, it's not a long stretch to suggest that over the last several decades Weiner Dowdell has been every bit as popular a personality in local shinny circles as area serfs who've hoisted the Stanley Cup in triumph. Why? Well, let's just say that if Kingston had a hall of fame for characters, Dowdell would be a first-ballot inductee.
Article content
"Weiner is the absolute best kind of teammate you could imagine," lauded Doug Cunningham over the phone from his winter digs in Palm Desert, Calif. The retired associate chief justice of the Supreme Court of Ontario and Dowdell played together on formidable oldtimers clubs that featured a heavy sprinkling of ex-pros and former senior A players.
"The things I miss most about hockey," Cunningham added, "are the antics and fun in the dressing room, and Weiner was always right in the middle of it … just a wonderful guy."
Ten years ago, Weiner asked friend Charlie Convery to attend an "emergency meeting" at a local oasis. "What's the emergency?" Convery inquired. "We'll find out when we get there," replied Weiner. A dozen people showed up. The latest biannual "emergency meeting" last month drew 45 people from as far away as Ottawa and upper New York state.
Article content
At a tournament in Syracuse many moons ago, Dowdell "accidentally" activated and half-emptied one of those old copper-plated fire extinguishers on a motel bed, which at the time was occupied by roommate Denny O'Donnell. "The thing went off by itself," Weiner fibbed with a sideways glance.
In the early '90s, Dowdell and Brooks accepted an invitation to join an Ottawa-based oldtimers team for a 17-day trip throughout Europe. The two, according to Brooks, rarely drew a sober breath, at least until the actual games commenced. A 10-hour flight delay at Uplands Airport gave the duo time to prime their furnaces. Ditto for the eight-hour flight to Geneva. Then came libations purchased at the Swiss duty-free shop. At some point the organizer, a burly Quebec man with a hangdog face — Weiner dubbed him "Pluto" — had seen enough. In the middle of a tiny town high up in the Alps, he told the partying pair they had to go home before the team had played a game. "Go home?" Weiner cackled from behind his bar, dusting off the memory as Merle Haggard played in the background. "It's not like we were two blocks off Princess Street." The two repented and promised sobriety for the remainder of the excursion, a pledge that for the most part they kept. Promises aside, they hadn't won anyone over. "We sat alone in the back of the bus," Brooks remembered. What redeemed them was Weiner's play on the ice. "He was the best player in practically every game," Brooks noted. "We never lost a game the whole time over there. By the end of the trip, everybody wanted to sit with Weiner at the back of the bus, even Pluto."
Weiner? For the record, it's Winston Charles Richard Ranklin Franklin Wayne Dowdell. "My mom thought she was having twins, so she had two names ready," said W.C.R.R.F.W. Dowdell, a native Kingstonian who turns 79 next month. "When it was just me, I got all the names. My driver's licence is a foot long."
Patrick Kennedy is a retired Whig-Standard reporter. He can be reached at pjckennedy35@gmail.com.
Source link